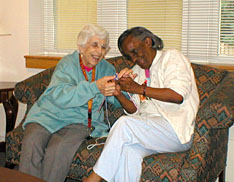 We strive to provide our residents with a safe and caring environment in which to live. It is our hope that Sacred Heart Village will be, in the words of our Executive Director, "a refuge for people to call home." Every dollar you contribute helps us to continue providing a home for our seniors.
Individual and corporate donations go a long way in helping us maintain the building and the level of service our residents deserve. Please consider giving to Sacred Heart Village.
If you would like to contribute, please call or send your donation to:
Sr. Pat Kerezsi, OSF
Manager, Sacred Heart Village
920 North Monroe Street
Wilmington, DE 19801-1337
(302) 654-5407

You may also donate online through the Ministry of Caring web site. Simply fill out the secure online form with your credit card information and select "Sacred Heart Village" under "Program or Campaign".
Click here to donate online.
Sacred Heart Village is a 501(c)(3) organization. All donations are fully tax-deductible.